Cost of Orthodontic Treatment • Dental Braces Cost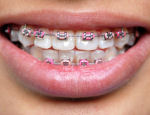 How much do braces cost?
Orthodontic treatment can offer spectacular results in improving a person's appearance, but it is one of the most demanding ones. The success of an orthodontic treatment requires the person's commitment in following the treatment schedule, large investment in time that could be several years, but it is also one of the most expensive dental treatments.
Average Cost of Orthodontic Braces
Cost of braces may vary depending on the type and severity of the problem and the amount of treatment needed. On average, expect to spend about $4000 to $5000 over the treatment period. The cost of orthodontic treatment depends on :
the severity and complexity of the orthodontic problem that requires correction
length of treatment
treatment plan and technique
type of braces
use of additional appliances
whether or not oral surgery is needed
expertise of the orthodontist
location of the orthodontist (country, state, cities or rural areas)
The major factors in determining the cost of orthodontic treatment are the type of dental braces that will be used and the geographic region where you plan to receive treatment.
Typical orthodontic treatment comprises of metal braces on both arches for 24 months. For example, typical cost of braces is about $5000 in the United States, ranging from around $3000 in rural areas to as much as $6500 or more in major cities, much more than in other countries. The cost of braces can be even lower than $1000 per year in India.
Average cost of braces in Europe is generally lower, but besides that in several European countries orthodontic treatment is available without charge to patients under 18, provided by national health care systems.
The other major factor for the orthodontics cost is the type of dental braces. Old fashioned metal braces provide the most suitable option for affordable orthodontics. Modern clear / ceramic braces are less noticeable or almost invisible but they can cost twice as much.
Orthodontics Cost and Financing
Dental braces represent a big financial investment for many parents of young children who need the orthodontics. Orthodontic cost can be a major expense in your family budget; however, there are several financing alternatives to assist with the cost of orthodontic treatment.
Orthodontic costs and payment options should be discussed with your treating orthodontist before starting the treatment. Your orthodontist will be able to provide you with information about dental insurance and other possible funding options. Orthodontists usually offer a variety of payment plans, some provide special plans for families with multiple children requiring orthodontic care at the same time.
In general an orthodontist will ask for a down payment amounting to 10 to 50% of the overall orthodontics cost before beginning treatment and divide the remaining amount by the months of treatment to offer you an affordable monthly payment.
Orthodontics Cost and Orthodontic Insurance
Most of the dental insurance policies do not include orthodontic insurance, while some of them provide only partial coverage of orthodontic costs. Contact your insurance provider for the specifics of what your policy covers, prior to starting treatment.
Some of the dental pans that have become popular recently, offer significant discounts for orthodontic treatments provided by orthodontists of their network. Check the available dental plans for your area even if you have partial coverage of orthodontic costs from your dental insurance. It might be possible to combine them for reducing further the cost of orthodontic treatment for your family.
How to save money on dental braces - Affordable Orthodontics
If you are looking for an affordable orthodontics solution, you have to consider using the traditional metal braces. Metal braces have been the standard in orthodontics and continue to be the cheapest type of dental braces used until today by orthodontists. If you want to save money on dental braces, you should prefer metal braces instead of ceramic ones or Invisalign.
Another option for low cost orthodontic braces are the dental college clinics that offer reduced rates for services provided by supervised students. Patients who can't afford the cost of braces should contact their local dental societies as some of them offer special price programs for low income patients.
While the cost of braces may be much lower in other countries, dental tourism for orthodontics is not easy due to the requirement for regular visits to the orthodontist's office for adjustments.
The choice of orthodontist is also important. Orthodontics cost may vary from office to office even if the same materials are used. Ask friends and relatives for referrals. Avoid highly advertised orthodontists. But in any case, do not allow cost to be the main factor in choosing an orthodontist. While prices may be higher for a more well known orthodontist, your case may need the best doctor available.
But if in your case only minor teeth movement is needed, then it is likely that your local orthodontist will be a good fit for affordable orthodontics.

The cost of orthodontic treatment can be significant and many patients may not afford it if they are not covered by their dental insurance. Learn how to choose a dental insurance plan that will provide the best dental treatment to you and your family.

next page -> Orthodontic Insurance Coverage for Dental Braces