Orthodontic Insurance for Dental Braces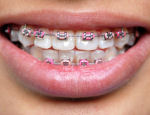 Orthodontic Insurance for Dental Braces
Having a great smile with perfectly aligned teeth is considered an important asset in the modern world. Unfortunately, we do not all have perfect teeth by nature, actually it is quite rare. Most of the children will need some kind of orthodontic treatment.
The cost of orthodontics can be a heavy burden for a family without the financial support of a good dental insurance for braces.
Orthodontic insurance coverage
Orthodontics is an expensive dental treatment with the average orthodontics cost about 4-5.000$, and much higher for difficult cases or for using the most modern materials.
In most cases, dental braces are considered as cosmetic treatment and it is difficult to find an orthodontic insurance provider to cover the total cost of dental braces.
Severe cases of malocclusion may be covered in full. An insurance company will usually cover the total cost of dental braces, and jaw surgery if needed, for a patient with severe malocclusion that affects eating, speaking, and mouth functionality.
Finding a good dental insurance for braces is the first thing you should do if any of your kids is diagnosed that will need the services of an orthodontist, even before you find an orthodontist to perform the treatment.
If you already have a dental insurance...
Even if you have a good dental insurance plan, do not assume that orthodontics insurance is included. Orthodontic coverage is usually a separate benefit in a dental insurance contract, covering a small percentage of the cost for braces and in the best cases up to 50% of the orthodontic treatment. First of all you should call your insurance company so that you could get a clear view of your orthodontic coverage.
Ask if your insurance policy covers orthodontic treatment such as braces
If they are covering such orthodontic treatment ask for the exact percentage.
You should also learn if there are any other limitations in your orthodontics insurance, such as age of the patient, maximum amount, deductibles etc.
If you are interested in adult orthodontics, ask if your plan includes adult orthodontic insurance.
Except of the classic metal braces, there are several other types of dental braces available today (Damon brackets, ceramic braces, clear braces, Invisalign etc). An orthodontic treatment may also include retainers, tooth extractions, surgery orthodontics, headgear or other appliances. Check what is covered and what is not..
Ask for a list of orthodontics in your area that accept your orthodontic insurance plan.
If you find out that you have no or little coverage you should start researching for other dental insurance plans that could better cover the cost for orthodontics.
If you do not have a dental insurance for braces...
If you do not have a dental insurance for braces, the need for orthodontic treatment is a great opportunity to get a dental insurance policy. It will not only make more affordable the orthodontics cost, but it will benefit your dental health in the long term (learn here why).
If you have decided about your orthodontist, ask about his/her experience with dental insurance providers that he/she works with. Ask for an opinion about the best dental insurance for braces based on your case's needs.
Before you take your final decision, you should take into consideration several factors described in detail in the dental insurance page.
Dental discount plans and orthodontics insurance
Dental discount plans provide an alternative solution if you do not have a dental insurance or if your policy offers no or minor orthodontic insurance coverage. You can find several dental discount plans that include braces.
Orthodontists who are members of the dental discount plan networks offer their services at a discounted rate (up to 30%-50% off). With an average cost of orthodontics around 4-5.000$, this could mean a significant saving.
How to get the best of your orthodontic insurance coverage
Before you take the final decision for your orthodontic insurance provider, make sure that you can find a suitable orthodontist in your area that accepts your dental braces insurance or dental discount plan. A good dental insurance provider will have a large list of participating orthodontists to choose from.
It is advisable to select orthodontists, who are not only good professionals but who also have experience in working with insurance companies because they could provide great cases to help you get as much coverage as possible. A well presented and documented orthodontic treatment plan can play an important role in the total amount that will be covered by your dental braces insurance provider.
Check for a quality orthodontist - For tips refer to "find an orthodontist"
In general, the cost of purchasing a dental braces insurance policy outweighs the costs saved by using an orthodontist within their network.

The cost of orthodontic treatment can be significant and many patients may not afford it if they are not covered by their dental insurance. Learn how to choose a dental insurance plan that will provide the best dental treatment to you and your family.

next page -> How to Find an Orthodontist