How To Find An Orthodontist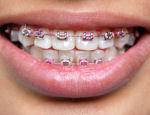 Orthodontists
Orthodontists are dental specialists who are trained and qualified to diagnose and treat malocclusion problems. Malocclusion, commonly called "bad bite", is the misalignment of teeth or jaws. Orthodontics is one of the recognized dental specialties, officially known as Orthodontics and Dentofacial Orthopedics.
The Orthodontist
An orthodontist is a certified dentist who has successfully completed at least two additional academic years of advanced studies in an orthodontic program of a dental school. Only dentists who have successfully completed an orthodontic specialty program can use the title of orthodontist. About 6 percent of dentists are orthodontists.
During their specialty training. orthodontists learn to manage the movement of teeth (orthodontics) and guide facial development (dentofacial orthopedics). Orthodontists use dental braces, retainers and other orthodontic appliances to treat a number of different malocclusion problems such as underbites and overbites; open bites and cross bites; crowded teeth and other problems. Learn how to become an orthodontist.
It's important that you choose a qualified, experienced orthodontist who has the knowledge, skills, and experience that will best meet your orthodontic needs.
How To Find An Orthodontist
Use the following sources to create a shortlist of orthodontists in your area:
The recommendation of your general dentist is very important. General dentists have the advantage of seeing the long term results of orthodontic treatments performed to their patients from several orthodontists in the area.
Ask your relatives, friends, neighbors and business colleagues for recommendations.
If you are new to an area, contact the local dental association and ask for a list of certified orthodontists in your area.
If you have a dental insurance or dental plan that cover orthodontic treatments, make a call to your insurance provider before arranging consultation to check which orthodontists in your area are members of your insurance provider's network.
---
Level of experience is an important factor for choosing an orthodontist especially when the problems are complicated, so it is good to know how long he has been practicing.
Find out if the orthodontists in your list offer free consultation. It will allow you to visit more orthodontists for consultation without additional costs.
How to Choose an Orthodontist
When you visit a orthodontist for consultation you can use the following checklist to find if he is suitable for your needs:
If you have a dental insurance plan, verify that the orthodontist accepts it with the expected terms.
Ask to see albums with before and after photos of previous patients with cases similar to yours. Check if the results are what you would expect for yourself.
Make sure if he/she is a qualified orthodontist. Modern techniques such as Invisalign may be offered also by general dentists. Even though this may not be important for minor cases that require small teeth movement, it is better to seek for a specialty trained orthodontist.
How clearly has the orthodontist explained the treatment plan? A visual demonstration of the treatment plan either using a mold of your teeth or a computer model can help to better understand the procedure.
Did the orthodontist provide information about alternative treatments? Some times the same result can be achieved with different treatment plans that may vary in time and cost.
If you are interested in the most modern methods such as Invisalign or lingual braces, learn if the orthodontist offers the specific techniques.
Make sure that the total cost of treatment is clearly defined.
Check out their financing options and find out if they offer payment plans with no interest. A convenient payment plan can make more affordable the large cost of orthodontics.
Is the orthodontist and staff friendly, welcoming and quick to address your concerns? Good patient-orthodontist communication is important for the success of the lengthy orthodontic treatments.
Orthodontists normally have a very tight appointment schedule. Get to the office a little earlier. It is not a good sign if you do not see any other patient before and after your appointment. On the other side, a crowded waiting room may indicate that the orthodontist fails to keep his schedule and you should expect longer waiting times on each of your visits.
Is the orthodontic practice conveniently located? You will have to visit it quite often, so it would be easier if it is near your home or child's school.
Make sure that the office hours and work days cover your schedule's available time for appointments.
Check how the practice handles emergencies such as a broken wire or bracket.
Experience and pricing are usually the most important factors in choosing an orthodontist. Orthodontics cost may vary from office to office even if the same materials are used. But in any case, do not allow cost to be the main factor in choosing an orthodontist. While prices may be higher for a more experienced orthodontist, your case may need the best professional available. If in your case only minor teeth movement is needed, then it is likely that your local orthodontist will be a good choice for affordable orthodontics.
---
Your orthodontist is a person that you will be working with for a number of years, investing time and money, so it is important that you make the right decision.

The cost of orthodontic treatment can be significant and many patients may not afford it if they are not covered by their dental insurance. Learn how to choose a dental insurance plan that will provide the best dental treatment to you and your family.

next page -> How to Become an Orthodontist