Dentists • Dental Specialties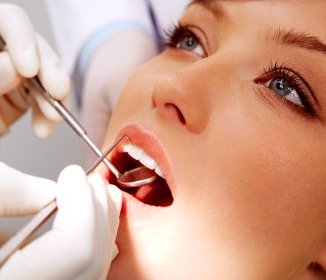 The Dentist
A dentist is the health care professional who specializes in the diagnosis, prevention, and treatment of diseases and conditions of the oral cavity (including the teeth, gums and other soft and hard tissues of the mouth). Dentists, also known as 'dental surgeons', help us maintain a bright healthy smile.
The role of the dentist
The main goal of modern dentistry is to help us maintain our natural teeth for as long as possible or, in case of tooth loss, to substitute missing teeth with an artificial replacement (dental implant, bridge or dentures) in order to restore the full and proper functionality of our mouth. They also encourage prevention of oral diseases through proper daily oral hygiene and regular, twice yearly, checkups for professional cleaning and evaluation.
A dentist performs a variety of dental treatments such as dental restorations (fillings, crowns, bridges), orthodontics (braces), prosthetics (dentures, implants, veneers), endodontics (root canal), periodontal therapy (gum treatments), tooth extractions, or cosmetic treatments as teeth whitening. Dentists can administer or prescribe medications such as antibiotics, fluorides, pain killers, local anesthetics, sedatives and any other medication required for the treatment of the various dental conditions. Although most of the dental procedures can be performed by every general dentist, some complex treatments such as orthodontics, sedation or general anesthesia, oral and maxillofacial surgery require additional qualifications, training and licensing. Learn how to find a good dentist.
Dental Specialties
A dental specialty is an area of dentistry that has been formally recognized by each country's National Dental Association as meeting the specified requirements for recognition of Dental Specialists. Dentist specialties are recognized in those areas where advanced knowledge and skills are essential to maintain or restore oral health. The list of recognized dental specialties differs from country to country. There are several dental fields such as oral medicine, cosmetic dentistry, dental implants, dental anesthesiology, orofacial pain and temporomandibular disorders which may not be recognized as official dental specialties in some countries but may require special accreditation and licensing.
Dental Specialties in US
The American Dental Association recognizes nine dental specialties in which dentists can get additional training and practice in addition to or instead of general dentistry:
Dental public health - Study of dental epidemiology and social health policies.
Endodontics - Root canal therapy and study of diseases of the dental pulp.
Oral and maxillofacial pathology - Study, diagnosis, and sometimes the treatment of oral and maxillofacial related diseases.
Oral and maxillofacial radiology - Study and radiologic interpretation of oral and maxillofacial diseases.
Oral and maxillofacial surgery - Extractions, implants, and MaxilloFacial surgery which also includes correction of congenital facial deformities.
Orthodontics and dentofacial orthopaedics - Straightening of teeth and modification of midface and mandibular growth.
Periodontology (periodontics) - Study and treatment of diseases of the gums (non-surgical and surgical) as well as placement and maintenance of dental implants
Pediatric dentistry - Dentistry for children
Prosthodontics - Dentures, bridges and implants.
The same specialties are also recognized in Canada and Australia.
Dental Specialties in UK
In UK there are 13 dental specialties recognized by the General Dental Council (GDC):
Special Care Dentistry: Improvement of the oral health and treatment of patients with any form of physical or mental disability.
Oral Surgery: Treatment and management of irregularities and pathology of the jaw and mouth that require surgical intervention.
Orthodontics: Prevention and correction of irregularities of the teeth, bite and jaw.
Paediatric dentistry: Oral health care for children from birth through adolescence.
Endodontics: Diagnosis, prevention and treatment of diseases and injuries of the tooth root, dental pulp, and surrounding tissue.
Periodontics: Diagnosis, treatment and prevention of diseases and disorders of the gums and other structures around the teeth
Prosthodontics: Replacement of missing teeth and the associated soft and hard tissues by prostheses (crowns, bridges, dentures) which may be fixed or removable, or may be supported and retained by implants.
Restorative dentistry: Restoration of diseased, injured, or abnormal teeth to normal function.
Dental Public Health: A non-clinical specialty focusing in the prevention of oral diseases and promotion of oral health to the population.
Oral Medicine: Oral health care of patients with chronic recurrent and medically related disorders of the mouth and with their diagnosis and non-surgical management.
Oral Microbiology: A clinical specialty focusing in the diagnosis and assessment of facial infection (bacterial and fungal diseases) through laboratory examination of microbiological samples.
Oral and Maxillofacial Pathology: A clinical specialty focusing in the diagnosis and assessment made from tissue changes characteristic of disease of the oral cavity, jaws and salivary glands.
Dental and Maxillofacial Radiology: Involves all aspects of medical imaging which provide information about anatomy, function and diseased states of the teeth and jaws.
In the European Union all member states recognize the specialties of orthodontics and oral and maxillofacial surgery.
What Type of Dentist Do I Need?
You are not sure of the difference between an endodontist and a pedodontist? Don't know whether you need a periodontist, a prosthodontist or an orthodontist? This is a quick guide of the various dental specialists and what they do.
General Dentist
Most people go to a general dentist for the majority of their dental needs. General dentists are the standard family practitioner, providing preventative care, diagnostics and basic treatments. They take care of all kinds of patients, young and old, from baby to wisdom teeth. A general dentist will refer you to a dental specialist if you have a dental condition that needs specialized care.
Endodontist
Endodontist is a dental specialist who deals with the diseases affecting the soft tissues inside the tooth. These nerves and blood vessels help keep the tooth alive. The most common procedure the endodontist performs is known as root canal therapy; it involves removal of the infected tissue inside the tooth, sterilizing the pulp chamber and root canals, and filling the entire internal cavity with a special filling material.
Oral Pathologist
Oral pathologists are dental specialists who study the nature of the diseases altering and affecting all the oral structures (teeth, lips, cheeks, jaw bones) as well as parts of the face and neck. In most cases you will not visit an oral pathologist, but your dentist will send them any questionable tissue sample for biopsy.
Oral and Maxillofacial Surgeon
Dentists with the specialty of oral and maxillofacial surgeon diagnose and surgically treat diseases, defects or injuries of the mouth, head and neck. Most patients think of oral surgeons removing wisdom teeth, and this is indeed one of the most common procedures they perform. But they are involved with many other treatments such as of temporomandibular joint disorders (TMJD), oral cancer, birth defects and more. In accident cases they help restructuring broken bones of the face and jaw. Working with other specialists such as cosmetic dentists and orthodontists, they adjust and realign jaw bones for improved esthetics or function. They are also skilled in placing dental implants to substitute the root part of missing teeth.
Orthodontist
The orthodontist is a dental specialist who designs and applies corrective appliances such as braces, retainers, etc. to realign crooked teeth and correct malocclusion or bite irregularities. Teeth can be straightened at any age. Although it is most common (and easier) to do so in the early teen years, modern innovations in braces (clear braces, accelerated orthodontics etc.) have made orthodontic treatment popular with adults too. Orthodontics is one of the popular dentist specialties.
Pediatric Dentist (Pedodontist)
Pedodontists (or pediatric dentists) are the specialists in children's dentistry. Having been specially trained in child psychology and development, they can handle the fears and needs of children from birth through adolescence. The pedodontist is the first dentist that a child will see. Preventive care is an important part of the pedodontist's practice. Pediatric dentists get also additional training for the proper care of patients with special needs who demonstrate mental, physical, and/or emotional problems.
Periodontist
The periodontist diagnoses and treats diseases of the gums and supporting bone surrounding the teeth. Periodontists are experts at treating gum disorders as gingivitis and the more destructive gum disease known as periodontitis. The periodontist is a dental specialist also involved with the placement of implants for areas of missing teeth and can surgically make changes in the gum tissue for a more natural gum smile line.
Prosthodontist
Prosthodontists are dentist specialists dealing with the restoration of damaged teeth and the replacement of missing teeth. Prosthodontists use prosthetic devices as dental implants, crowns and bridges, partial dentures and complete dentures to replace the missing or extracted teeth.
Sedation Dentist
Sedation Dentistry is not a recognized dental specialty. Dentists of any dental specialty may offer sedation services to their patients, if the have the required training and proper licensing for the type of dental sedation they provide.
Cosmetic Dentist
Cosmetic dentists offer a variety of services to enhance the appearance of your smile. The cosmetic dentist can properly analyze the aesthetic needs of each patient and design the correct treatment plan for optimum and balanced aesthetic results. Treatment may include tooth whitening, veneers, tooth bonding, orthodontics and more. For some of these the cosmetic dentist may refer you to another dental specialist.
How to become a dental specialist
Following dental school, the majority of dentists choose to move immediately into practice as a general or family dentist. Others decide to pursue postgraduate training to become a specialty dentist in one of the fields of dentistry that are recognized by the international or national associations as dental specialties. The duration of training depends on the selected dental specialty. For example, an endodontist requires an additional two or three years of training after dental school, while for oral and maxillofacial surgeons the additional training time required is four to six years.

Back to -> Home Page