The Dental Assistant's role in a dental office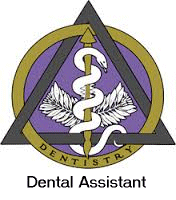 The Dental Assistant
Dental assistants perform a variety of patient care, office, and laboratory duties. But they are not licensed to perform the extended tasks that dental hygienists can perform.
About one-third of all dental assistants in US work part-time, sometimes working for more than one dental practice. Some dental assistants become office managers, dental-assisting instructors, or dental product sales representatives.
Duties of a Dental Assistant
Dental assistants work chairside as dentists examine and treat patients. Their duties include:
make patients as comfortable as possible in the dental chair, prepare them for treatment, and obtain dental records
hand instruments and materials to dentists, and keep patients' mouths dry and clear by using suction or other devices
sterilize and disinfect instruments and equipment, prepare tray setups for dental procedures
instruct patients on postoperative and general oral health care
expose radiographs, and process dental x-ray film as directed by a dentist
Office administrative duties of a dental assistant include:
schedule and confirm appointments
receive patients
keep treatment records
send bills and receive payments
order supplies and materials
Dental assistants should not be confused with dental hygienists, who are licensed to perform different clinical tasks. The two jobs differ in the type of day-to-day tasks but also in the level of education and licensing required.

Next page -> How to become a Dental Assistant - Dental Assistant School requirements