Dental Education - How to seek a career in Dentistry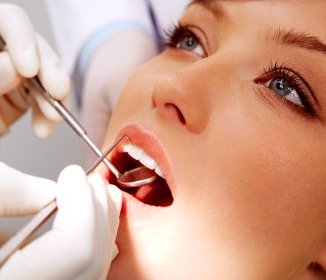 Dental Education - Careers in Dentistry
Following a career in dentistry can be exciting and rewarding. If you think you might like a dental related profession, the following pages will provide you with information about preparing for dental education.
There are several dental education options for those seeking a career in dentistry. You can be a dentist, dental hygienist, dental assistant or dental technician. Dental education, licensing requirements, duties and salaries differ for each of these careers in dentistry.
Dentist career
Dentistry is the science of prevention, diagnosis, and treatment of conditions, diseases, and disorders of the oral cavity. Dentists diagnose and treat problems related with teeth and mouth tissues, but also advise their patients on how to help prevent future dental problems. Dentist's job description
Most dentists are general practitioners, handling a variety of dental needs. Other dentists practice in any of the nine dental specialties.
Cosmetic dentistry is an exciting new field of dentistry that focuses on improving the appearance of the mouth (teeth and gums), unlike traditional dentistry that focuses on the treatment of oral diseases.
How to become a dentist
•
Dental Schools
Dental Hygienist career
Dental hygienists generally work under the supervision of a dentist, providing patients with preventive dental care. Health education opportunities also exist in community organizations and government positions. Dental hygienists clean, polish, and remove deposits from the teeth. They also are responsible for keeping dental records and taking X-rays. Dental hygienists are responsible for educating patients on dental hygiene techniques such as proper way of brushing and flossing.
Dental Hygienist's job description
•
How to become a Dental Hygienist
•
Dental Hygienist Schools
Dental Assistant career
Dental assistants work alongside dentists, performing some patient care, but not the same tasks dental hygienists are licensed to perform. They help the dentist in dental procedures by preparing and sterilising dental instruments and equipment. Dental assistants also perform laboratory and office duties. They usually receive on-the-job training.
Dental Assistant's job description
•
How to become a dental assistant
Dental Technician career
Dental technicians manufacture dental prosthetics such as crowns or dentures based on dentists' specifications. They are also called dental laboratory technicians. Dental technicians can work for dental laboratories, as individuals or as in-house dental technicians for dental clinics.
How to become a dental technician

Next page -> The Dentist Career - Job Description