Dental Technician - How to Become a Dental Lab Technician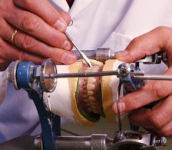 How to become a Dental Technician
Dental Technicians fill prescriptions from dentists for crowns, bridges, dentures, and other dental prosthetic or orthodontic appliances. Dental technicians fabricate the requested prosthetic appliances, based on dentist's specifications and an impression (mold) of the patient's mouth or teeth taken by the dentist.
A dental lab technician can specialize in one of five areas: Orthodontic appliances, crowns and bridges, complete dentures, partial dentures, or ceramics.
Educational Requirements to become Dental Technician
Most dental laboratory technicians learn their craft on the job, beginning with simple tasks, such as pouring plaster into an impression, and progress to more complex procedures, such as making porcelain crowns and bridges. Becoming a fully trained technician requires an average of 3 to 4 years, depending upon the individual's aptitude and ambition, but it may take a few years more to become an accomplished dental lab technician.
Training in dental laboratory technology also is available through community and junior colleges, vocational-technical institutes, and the Armed Forces. Formal dental technician training programs vary greatly both in length and in the level of skill they impart.
Several programs in dental laboratory technology are approved (accredited) by the Commission on Dental Accreditation in conjunction with the American Dental Association (ADA). These programs provide classroom instruction in dental materials science, oral anatomy, fabrication procedures, ethics, and related subjects. In addition, each student is given supervised practical experience in a school or an associated dental laboratory. Accredited programs normally take 2 years to complete and lead to an associate degree. A few programs take about 4 years to complete and offer a bachelor's degree in dental technology. Graduates of 2-year training programs need additional hands-on experience to become fully qualified.
The National Board for Certification, an independent board established by the National Association of Dental Laboratories, offers certification in dental laboratory technology. Certification is voluntary.
Dental technicians can work for dental laboratories, as individuals or as in-house dental technicians for dental clinics.

Back to -> Dental Education - How to seek a career in Dentistry