Cosmetic Dentists • How to find a cosmetic dentist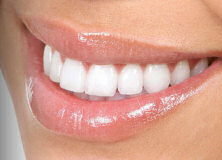 The Cosmetic Dentist
The cosmetic dentist is a relatively new type of dental specialist that has developed as more and more individuals than ever before are looking to their dentist to improve their physical appearance.
If you want to improve your smile's appearance you should first visit an experienced cosmetic dentist for consultation.
Cosmetic Dentists vs General Dentists
Cosmetic dentistry is considered more like an art. The best cosmetic dentist is not the more skillful in performing each cosmetic dental procedure but the one who can properly analyze the aesthetic needs of its patient and design the correct treatment plan for optimum and balanced results. In many cases he will not perform some of the treatments himself but he will send you to another dental specialist with the proper expertise.
A cosmetic dentist focuses on improving the appearance of a person's teeth, mouth, and smile while a general dentist focuses on the prevention, diagnosis and treatment of oral diseases.
Many general dentists perform cosmetic procedures such as tooth whitening or veneers but that does not make them cosmetic dentists. All dentists can offer an in-office tooth whitening, but only a cosmetic dentist has the experience and expertise to select the correct color shade for your teeth in correlation with your skin and hair color. Otherwise excessively whitened teeth may look 'fake'.
How to Find a Cosmetic Dentist
Cosmetic dentistry is not an officially recognized dental specialty in most countries, so any general dentist may use the term cosmetic dentist. For this reason you have to be careful before choosing a cosmetic dentist. Before you trust your smile's future to a cosmetic dentist, you must make sure that this person is qualified, experienced, and able to meet your specific needs.
When you start to examine the available options, you should consider the following:
References. Ask friends and colleagues who had a cosmetic treatment their opinion about their cosmetic dentists. Their personal experiences and recommendations may be more valuable for you than anything else, especially since you can yourself check the achieved result on them.
Before and After Photos - Examine the dentist's collection of before and after photos (every true cosmetic dentist should have one). Check for cases with similar problems like yours. Ask about these cases and the techniques the dentist used to improve their smiles.
Accreditations – Prefer a dentist who is an accredited member of national or international cosmetic dentistry associations (e.g. such as the American Academy of Cosmetic Dentistry for U.S.A.).
Training and education. Cosmetic dentistry requires some special skills different of those of a general dentist. To become specialized in cosmetic dentistry, dentists must attend a number of relevant seminars and workshops. Hands-on training is needed for obtaining the necessary skills. Cosmetic dentistry is one of the most evolving fields of dentistry. New materials and techniques are introduced every year. The cosmetic dentist has to take continuing education courses to remain up-to-date with the latest developments in clinical cosmetic dentistry.
Experience. Experience is extremely important in cosmetic dentistry. A cosmetic dentist must be able to predict the outcome of a combination of different dental treatments, a skill which is based on its experience rather than training. Ask potential cosmetic dentists how much experience they have in the type of procedures in which you will need. Many years of practicing general dentistry do not mean that the dentist is also experienced in cosmetic treatments.
Alternative therapies. A cosmetic dentist who is truly interested in serving the patient's needs will usually propose a combination of alternative treatments and explain their pro's and con's. Take a second opinion if you are offered with a single solution especially if it happens to be also the most expensive (it is important to be offered a back up plan if the perfect smile is going to cost you a fortune).
Computer imaging technology. The availability of computer imaging technology is an important advantage for a cosmetic dentist. It provides the dentist with the tools to demonstrate you in a clear and convincing way the expected outcome of every cosmetic procedure. The computer generated pictures that simulate how your teeth will look after treatment can help you significantly to choose the right treatment, especially when there are various options. Different options may produce slightly different results. Computer imaging technology gives you the opportunity to evaluate properly the cost of every treatment in relation with the expected cosmetic result.
Cost. Some cosmetic procedures such as porcelain veneers are among the most expensive dental procedures. The overall therapy cost could be for some patients a very important factor for choosing a dentist, but the procedures proposed by each dentist and the quality of the materials should be also taken under consideration. Do not choose the cheapest solution if you are not convinced about the experience of the dentist or the quality of the materials to be used.
Materials. Ask about the type of materials that the dentist has selected for your treatment plan. Knowing the quality of the materials to be used is essential for comparing the cost of the suggested cosmetic treatments
Communication and Trust. Choose a cosmetic dentist with whom you feel comfortable and communicate easily. Make sure that he/she really understands what is the outcome you expect. Respectively, the cosmetic dentist has to clearly explain to you if those expectations are realistic and how they can be accomplished. Do not let the dentist take the decisions for you, before you understand the long term effects (and cost) of each treatment.
Financing. Cosmetic treatments can be very expensive, so it is wise to examine what payment plans or other in-house financing options are offered by each cosmetic dentist.
Besides these specific criteria, the factors that you should consider before choosing your regular dentist apply also in this case.
How to Choose a Cosmetic Dentist
It is important to visit a few cosmetic dentists, if possible, before you decide. Evaluate carefully the several criteria and choose the cosmetic dentist that fits at least to those that you consider the most important.
Do not base your decision only to the best offer in terms of cost. If you do not feel confident with your choice, do not hesitate to take one more opinion before you trust your smile to the specific cosmetic dentist.

Each individual has different cosmetic problems that can be treated with various combinations of different cosmetic dental treatments. If you want to improve your smile's appearance you should first visit an experienced cosmetic dentist for consultation. Cosmetic dentists have the expertise to analyze your cosmetic needs, and propose a complete plan of cosmetic dental treatments that will best fit to both your expectations and finances.

next page -> Cosmetic Dentistry