Porcelain Veneers vs. Tooth Bonding and Crowns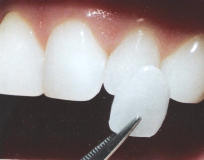 Porcelain Veneers vs. Bonding and Crowns
In the past, the only way to correct teeth imperfections was to cover them with a crown. Today, in most of the cases, your cosmetic dentist can provide you with at least 3 alternatives solutions : dental crown, tooth bonding or porcelain veneer.
This article discusses the advantages and disadvantages of dental porcelain veneers vs. bonding or crowns.
Advantages of Porcelain Veneers vs. Bonding and Crowns
Porcelain veneers offer a conservative approach to changing a tooth's color and shape
Require less tooth structure removal than crowns.
Last longer than bonding
Provide a more natural tooth appearance.
Porcelain veneers are stain resistant.
The color of a porcelain veneer can be precisely adjusted to match the desired color.
Veneers can last from ten to fifteen years (at least equal to crowns and much more of bonding).
Veneers do not only beautify the tooth but can actually strengthen it.
They need no additional maintenance, other than proper brushing and flossing on a daily basis.
Disadvantages of Porcelain Veneers vs. Bonding and Crowns
Porcelain veneers cost much more than composite resin bonding
Not reversible removal of tooth structure, but in less extend than crowns
The tooth may become more sensitive to hot and cold due to enamel loss
Veneers are not as strong as crowns, they can chip or crack more easily. They can not be used for teeth with extensive structural damage.
Teeth with veneers can still experience decay, same as a crowned or bonded tooth.
Veneers are not suitable for individuals with active periodontal disease, weakened teeth or for teeth who have an inadequate amount of existing enamel on the tooth surface.
Dental veneers should not be used if there is a bruxism problem. Teeth grinding or clenching can cause the veneers to crack or chip.

If you want to improve your smile's appearance you should first visit a cosmetic dentist for consultation. Cosmetic dentists have the expertise to analyze your cosmetic needs, and propose a complete plan of cosmetic dental procedures that will best fit your expectations and finances.

next page -> Teeth Shaping