Dental Veneers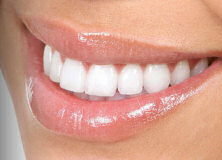 Dental Veneers
Dental veneers are ultra-thin, custom-made shells of tooth-colored materials designed to cover the front surface of teeth to improve their appearance or repair damage. Veneers are made out of porcelain or composite material by a dental lab technician, based on a model provided by the dentist. They are bonded to the front of the teeth changing their color, shape, size or length.
Dental Veneers in Cosmetic Dentistry
Dental veneers (and especially the porcelain veneers) have offered the most exciting and revolutionary advancement in aesthetic dentistry. They have become a popular cosmetic solution because of their natural appearance and durability.
Modern dental research has provided cosmetic dentistry with high quality translucent veneers that can match our natural tooth colour offering a uniform and authentic appearance.
The procedure requires little or no anesthesia, and can be performed by general and cosmetic dentists. Dental veneers can be used to treat smile imperfections such as a slightly crooked, discolored, chipped or cracked teeth or even to cover spaces in between the teeth.
Porcelain veneers is the dental cosmetic treatment that has helped most of the TV and movie stars to get that dazzling smile we all see on the screen.
What cosmetic problems can Dental Veneers fix?
Regardless of what is the cause of dental imperfections, porcelain veneers may solve most of the cosmetic dental problems of unattractive teeth, such as:
Stained or Discolored Teeth - Dental veneers are used to whiten teeth with discolorations because of root canal treatment; use of tetracycline or other drugs; excessive fluoride use; tooth trauma; smoking; old resin fillings that have discolored or other causes.
Chipped or broken teeth – besides the cosmetic effect of covering chips and cracks, veneers can actually strengthen teeth with minor structural damage.
Irregularly shaped teeth - teeth that are too small, too big, have uneven surfaces or they are oddly shaped teeth (for example, have craters, small holes or bulges in them)
Crowded or crooked teeth – in many cases veneers can correct their appearance without the need for braces
Diastema – unaesthetic gaps between front teeth can be closed with veneers on one or more teeth.
Uneven teeth - veneers can restore teeth that are lower than their adjacent teeth either by nature or due to physical wear from tooth grinding.
Types of Veneers - Porcelain Veneers and Composite Resin Veneers
Dental veneers can be made from two types of materials, porcelain or composite resin materials.
Porcelain veneers resist stains from coffee, tea or smoking better than composite veneers, have better light reflecting properties that make them look more like natural teeth. They are longer lasting but also more expensive.
Composite resin veneers have the advantage that they require the removal of less amount of tooth structure before placement because they are thinner.
Usually porcelain veneers require two or more visits. They are fabricated by a dental technician in a dental laboratory; while composite veneers can be directly fabricated inside your mouth at the dental office in one single visit (direct veneers).
If you are looking for the best quality results, your choice should be the porcelain veneers.
The type of veneers best suitable for your needs should be discussed with your cosmetic dentist, who he will recommend the most appropriate solution.

If you want to improve your smile's appearance you should first visit a cosmetic dentist for consultation. Cosmetic dentists have the expertise to analyze your cosmetic needs, and propose a complete plan of cosmetic dental procedures that will best fit your expectations and finances.

next page -> Porcelain Veneers