The Toothbrush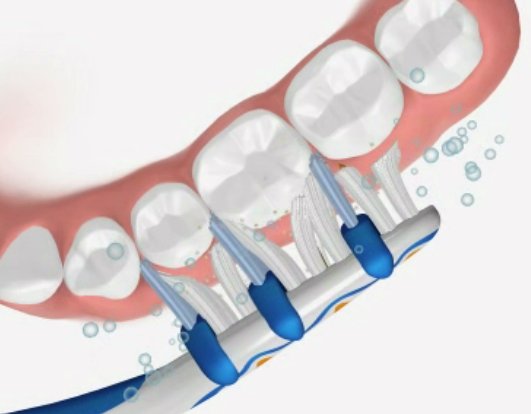 The Toothbrush
The Toothbrush is a personal care 'tool' used to clean teeth, consisting of a small brush on a handle.
Daily use of fluoride toothpaste with a modern toothbrush is the best way to promote oral hygiene and good oral health.
How to Choose the Best Toothbrush
In order to choose the best toothbrush that provides you with adequate teeth cleaning, you should know that a modern toothbrush must have :
Head size that you feel comfortable in the mouth and allows you to reach easily to the back teeth.
Anatomic grip to help you make the correct toothbrushing moves
Head design that helps cleaning all teeth surfaces even at difficult areas as the spaces between teeth.
Nylon bristles (natural bristles wear out easier and allow the growth of bacteria).
Rounded end of bristles to avoid damaging the gums.
If you find it difficult to use a manual toothbrush, try one of the electric toothbrushes.
Your dentist will advise you for the right toothbrush hardness (soft or medium) and type according to your specific needs, mouth shape and dental problems. In general, the safest choice is a soft toothbrush.

Choosing the best toothbrush is not enough. Any toothbrush will be useless if you do not know how to brush your teeth.
How to Choose Kids Toothbrushes
Special care must be taken when choosing an infant toothbrush, because kids have much tender gums that are easily injured. Kids toothbrushes should have :
Small head size to fit in the small mouth of the infant
Soft bristles to protect the child's teeth and tender gums
Large and anatomic grip for easier handling
Flexible neck material to absorb excessive brushing pressure
Attractive design and colours to make toothbrushing a pleasure for the kid.
For kids under the age of two, you could use a special type of infant toothbrush that fits over your finger (without handle) to clean their teeth
Ask a pediatric dentist before buying one of the infant electric toothbrushes for your kid.
When to Change Your Toothbrush
The bristles of the toothbrush wear out during brushing, so after some time they don't provide adequate cleaning and may injure the gums. For the best results from brushing you must change the toothbrush :
Every 3-4 months
Immediately after the bristles start to loose their natural position on the head of the toothbrush
After a cold or flue
Children toothbrushes have to be changed more often since they wear out easier.
Toothbrush is a strictly personal item, do not share it with anyone else. That would increase the risk of infections transmission, due to the exchange of body fluids and microbes between the users.
How to Store your Toothbrush
The right way of storing your toothbrush will allow you to keep it in good shape for a longer period. To achieve it, after every brushing :
Wash and rinse well the toothbrush to remove any remaining toothpaste, food debris and bacteria.
Store it in upright position in a well ventilated area to help drying
Do not cover the toothbrush head or put it in a closet, at least not before it dries completely. The moisture that remains on the toothbrush may help the growth of bacteria.
If your toothbrush is stored in the same holder with another person's tooth brush, keep them separated to avoid cross contamination.
Daily oral hygiene is essential for maintaining oral health. It should also be combined with proper healthy diet and regular dental visits.

next page -> Electric Toothbrushes